Are you struggling with anxiety, stress, or depression that isn't getting better?
Are you having relationship issues that seem to be getting worse?
Does it feel like past or current trauma has overwhelmed your ability to cope?
You don't have to go through this alone.
Online counseling when and where you need it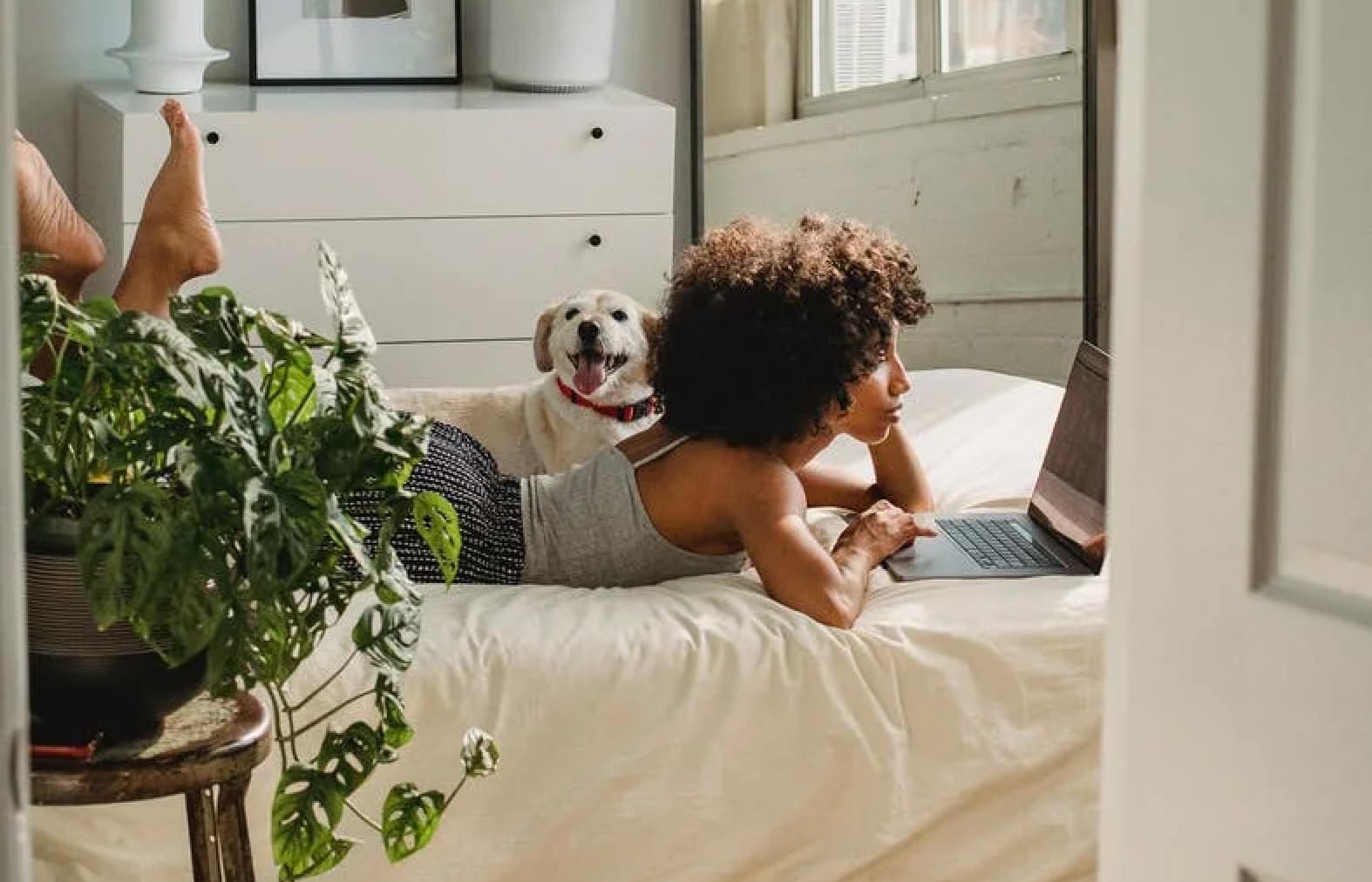 Virtual therapy is a great way to get the support you need from the comfort, privacy, and safety of your own home.
Different people decide to pursue online counseling for many reasons, including:
Worrying or feeling like anxiety is interfering with your sleep patterns or day-to-day functioning

Feeling depressed, sad, or low-energy. You may also feel hopeless, irritable, or overwhelmed and unable to cope

Challenging life transitions such as a job loss or change, moving, coming out, or retiring

Grief over the sudden loss of a loved one, friend, or colleague

Relationship or communication issues

Unresolved traumatic experiences and abuse
There are many benefits to online therapy
Even before Covid, teletherapy has helped people get the support they need to thrive. Many people rely on or prefer online therapy. Just because you're not coming into an office doesn't mean you have to put off seeing a therapist.
Many people prefer online psychotherapy because of the extra privacy and convenience it offers. Some people may feel more comfortable opening up to a therapist online instead of in person.
Our therapists are licensed in New York and can see you whether you live in the NYC metro area or anywhere in the state. For your convenience, we offer appointments at different times of the day as well as on weekends.
Our highly trained therapists treat the same concerns through online therapy. You can be confident that you're getting the same exceptional care that our therapist's provide, whether you're meeting at our office or online.
After you schedule your free 30-minute consultation with a therapist of your choice in the client portal, you'll receive a confirmation email of your appointment with some forms to review. Once you've submitted your completed forms, your therapist will call you on your appointment date at the scheduled time. To book future sessions, you can simply schedule your appointments through your client portal. Your therapist will be able to contact you through the preferred method of your choice (FaceTime, Skype, phone call, etc.).
Tips to ensure a great first online therapy session:
Create a Private Environment: Identify a suitable room or area of your home that is quiet, private, and free of distractions.
Eliminate Noise & Distractions: Make sure to close any doors, shut windows, turn off the television, and keep loud pets in another room if possible. Unless you're using your phone for the session, consider turning it on silent and setting it aside.
Improve Sound Quality: Consider using headphones if there's background or ambient noise where you are. This will improve the sound quality and make it easier for you and your therapist to hear each other.
Check Your Video: If you plan to use video during your session, make sure there's ample lighting so your therapist can see you clearly.
Identify Goals: Think about what you want to get out of therapy. Do you need help working through a specific stressful situation, or are you hoping for a more long-term relationship where you can explore issues as they arise? Identify what you'd like to gain or accomplish through the therapy process so together you and your therapist can track your progress toward success.
Remember that social distancing doesn't have to mean social isolation. Online counseling and therapy is a great way to stay connected to a source of support from your own home. You may feel anxious, depressed, worried, or unsettled, and have difficulty managing these feelings in your daily life. If you find that you're having trouble coping or feeling better on your own, talking with a therapist can help. Online therapy is a great option for you if you're unable to leave your home, or if you're looking for added convenience, comfort, and privacy when it comes to your therapy sessions.
SimplePractice, LLC is our practice management software for scheduling, case management, teletherapy, and documentation. The platform uses a HIPAA-compliant software, which ensures your information is secure.
This is provided on a limited basis as long as your therapist is licensed to practice in your state of residence. If you have questions about this, we encourage you to speak with your therapist directly.
Here are some steps you can take that can improve your connection quality:
Move closer to your router if you experience a choppy audio and video connection. If your connection doesn't improve, you can try using wired ethernet instead of wifi. Wired ethernet will provide more consistent internet quality.
Test your connection speed by searching "internet speed test," or using a free tool like www.speedtest.net. If it's under 10mbps and you're using wifi, try connecting your ethernet or restarting your router.
Close programs running in the background. This should improve your overall connection quality. Make sure you're not downloading any large files, as this can also impede your connection.
Get the therapy you need without leaving home
Online therapy allows you to experience therapy from the comfort of your own couch. Our New York City therapists are ready and waiting to help you build the health, wellness, and life that you want and deserve.
Get connected with a therapist for a complimentary phone consultation today.