Using Insurance for Therapy
GHI/Emblem Health OUT-OF-NETWORK
We help clients use their out-of-network insurance benefits to cover the cost of therapy.
Dealing with insurance companies is often very confusing, but understanding your out-of-network benefits can be rather simple. We'll explain the process of using GHI / Emblem Health a bit more thoroughly. 
GHI allows practitioners in NYC to bill out-of-network to to receive a reimbursement amount of $65 (known as an allowed amount) per therapeutic meeting, then cover the remaining cost with a practice known as Balance Billing.
WHAT IS "BALANCE BILLING"?
Therapist and therapy clients who opt to use their out-of-network (OON) benefits often use a simple formula to make therapy more affordable for the client.
Balance Billing = Set Reimbursement Rates (paid by Insurance) + Balance of Usual and Customary Session Rate (paid by Client)

This is the allowed amount that the insurance will reimburse and the usual and customary rates or what the therapist may charge. The reimbursement rate is a fixed amount determined by the insurance company. Thus, there will likely be a difference between the reimbursement from the insurance company and the fee your therapist charges.
HOW TO USE GHI/EMBLEM HEALTH OUT-OF-NETWORK FOR THERAPY

The benefit of GHI is that the insurance company will pay a flat rate for sessions, which means that you know exactly what the rate will be for individual psychotherapy, $65. Other insurance companies are more ambiguous about rates and not as straightforward. We are not therapists in-network with GHI, however, we will work with GHI and submit all claims on your behalf.
The benefit of working with a therapist in-network is that you typically only have to pay a copayment. Let's look at an example of what you might pay if using GHI out-of-network benefits on psychotherapy.
EXAMPLES OF USING GHI EMBLEM HEALTH OUT-OF-NETWORK WITH BALANCE BILLING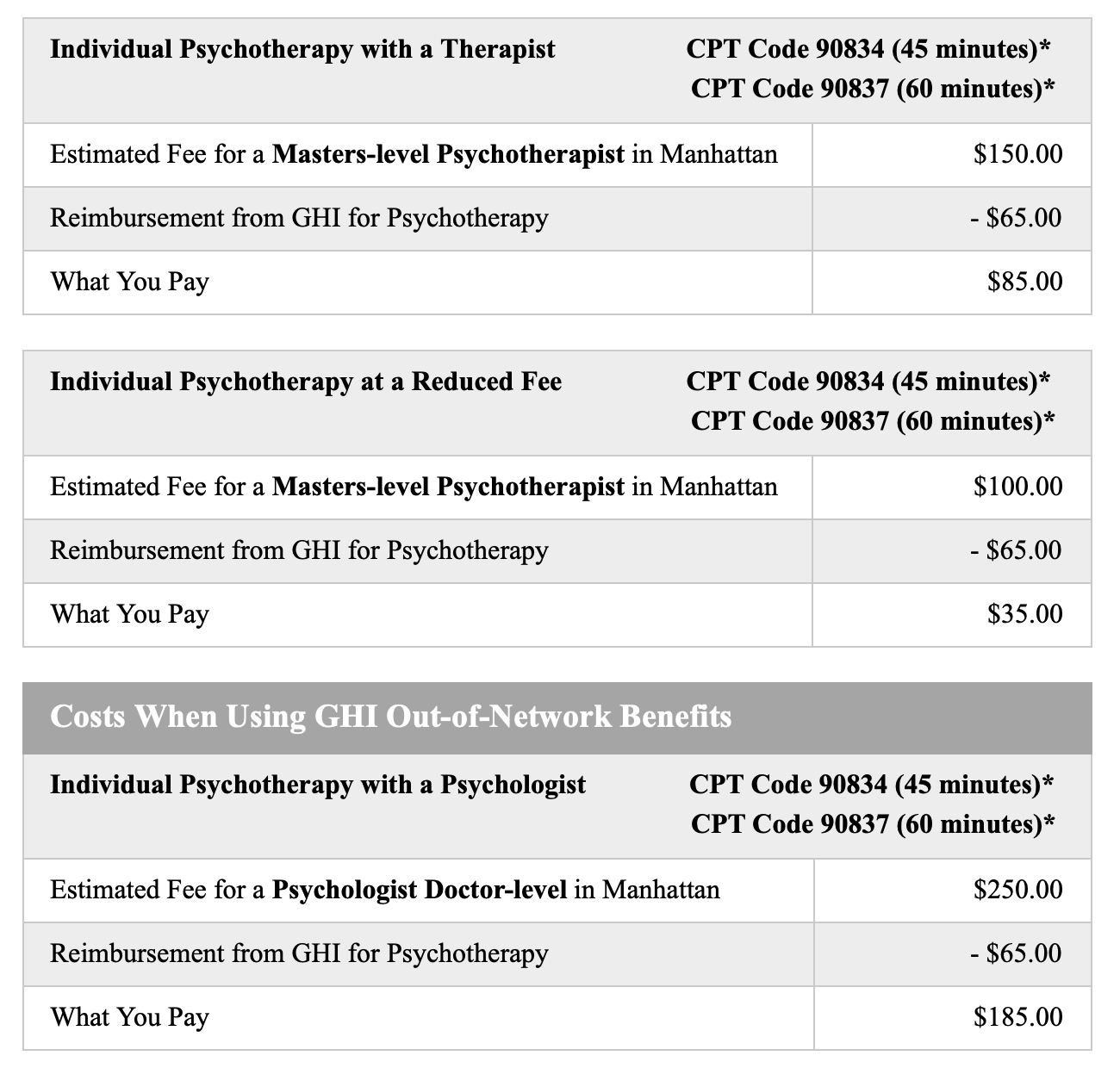 WHAT IS A DEDUCTIBLE?
Many insurance plans have a deductible that the member must reach before the insurance begins reimbursement. For example, let's say your insurance covers 50% for each psychotherapy session, but only after you reach a $1,000 annual deductible. If each session is $200, you would have to pay for 5 sessions ($200 per session x 5 sessions = $1,000).
In this case, after reaching your deductible your insurance would reimburse $100 and you would be responsible for a $100 copay. Note that the deductible is reset annually, so your policy will roll over at the end of the policy year (i.e., Jan 1 – Dec 31 or July 1- June 30).
WHAT IS THE TYPICAL GHI DEDUCTIBLE?
GHI has either a $200 individual or $500 family deductible, after which they reimburse $65 for session.
So, let's say your therapist charges a reduced fee of $100 per session, you would be responsible for paying $35 a session (see reduced fee table above) after reaching your deductible. 
If you are on an individual plan, you would pay $200, and then GHI would pay $65 thereafter.
If you are under a family plan, the family must collectively reach a certain amount, $500, in the case for GHI. So, if one or more members of the family pays for $500 worth of services, GHI will then begin reimbursement at a $65 rate per session.
ADVANTAGES AND DISADVANTAGES OF STAYING IN-NETWORK VS. OUT-OF-NETWORK (OON)
The disadvantage of staying in-network is that it limits your options and many therapists don't accept GHI. If you'd like to work with a therapist in-network with GHI, visit the Psychology Today website, which can filter therapists by insurance. Although you will likely pay a higher copay when using out-of-network benefits, it gives you more options to choose the therapist that you connect most to.